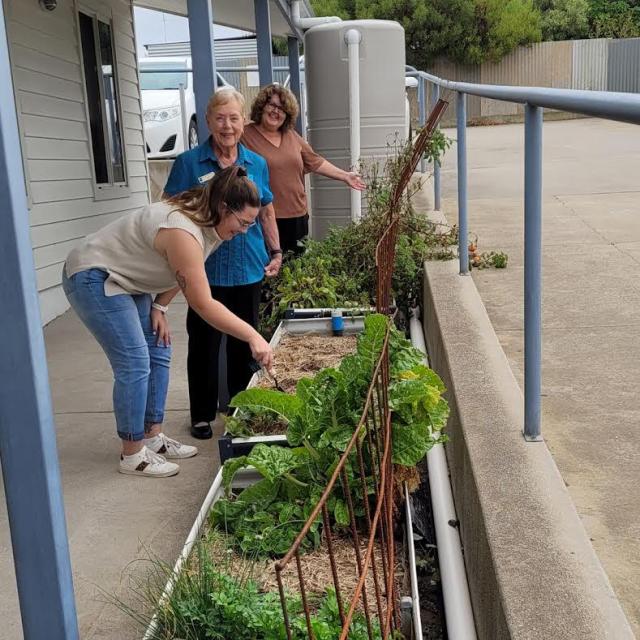 Wicking garden beds at a local organisation have displayed good results having been installed through SA Water's Community Partnerships program.
A water efficiency garden project had been installed several years ago at Centacare Catholic Country SA's (CCCSA) in Port Lincoln, and recently vegetables have been flourishing within purpose-built wicking garden beds.
The beds had been implemented with support from SA Water's program, which provides up to $10,000 in support of projects that have a focus on sustainability, healthy communities and environmental leadership.
The CCCSA Port Lincoln initiative was one of 11 projects to be funded through SA Water's program.
Centacare assistant manager Ann Hennessy said the initiative had been a "resounding success," as many locals had been reaping the benefits.
"The wicking beds in our community garden have proven to be cost-effective, water efficient, and provide a more sustainable solution for gardening," she said.
"During hot weather, the beds only require topping up every seven to 10 days, compared to daily irrigation of the vegetable garden prior to installing the wicking beds."
Ms Hennessy said the organisation was using mulch to work to keep the soil moist and to aim to reduce the top soil drying out.
SA Water stated wicking beds used a self-watering system that allowed the plants to draw water from a reservoir beneath the soil, which worked to reduce water consumption and aimed to ensure the plants received the right amount of water they needed to grow.
"The garden also provides a space for people to come together and engage in gardening activities, promoting social interaction and community building," Ms Hennessy said.
"Staff carrying out maintenance have received positive feedback from visitors, given them an opportunity to explain the wicking system and how it can be implemented in home gardens."
Ms Hennessy said the team in Port Lincoln collaborated with other agencies in the Community Street Gardens project, who have a shared motto that states 'grow it, share it, eat it.'
She said the team behind the project took pride in providing access to "safe" and "nutritious" food for the community to harvest at any time of the day.
SA Water's general manager of strategy, engagement and innovation Nicola Murphy said it was great to be able to support an initiative which demonstrated the benefits of water-efficient gardening and the value of an outdoor community space.
"This project shares our vision of sustainability and livability and we're really pleased to see the garden beds thrive and generate such a positive outcome for the Port Lincoln community," she said.