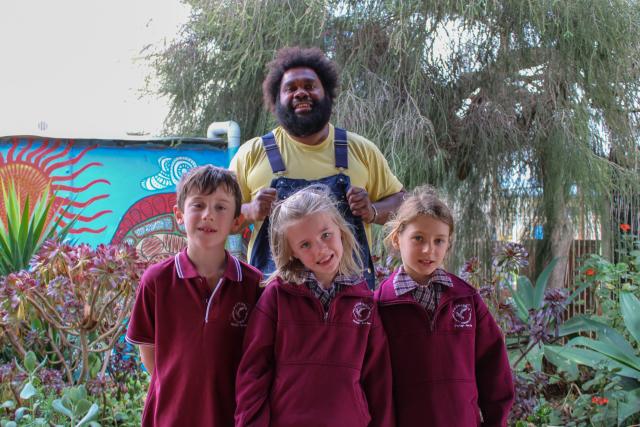 Patch Theatre's immersive travelling show recently visited Eyre Peninsula.
The 'Spark: Glow & Tell' show toured schools and kindergartens across the region, including Port Neill Primary School, Port Lincoln Children's Centre, Kirton Point Primary School, Port Lincoln Junior Primary School, Lake Wangary School, Lincoln Gardens Primary School and Poonindie Community Learning Centre.
At Poonindie, the show took place in a large inflatable tent and 18 students watched the stories come to life as Edgell illustrated a tale about his cousin embarking on an adventure in Vanuatu, in glowing UV light drawing pictures on the interior.
Following the performance, students created and illustrated their own stories within the glowing confines of the tent.
Poonindie Community Learning Centre students Leni Higgins, Bridie Low and Bodhi Higgins shared their favourite parts of the show.
Leni said her favourite thing was "getting to draw things with the light".
Bridie added: "Drawing with the lights. I drew a seahorse and a shark!"
Bodhi said his favourite part was "when you got to write and draw on the floor. I didn't draw much of a story, I just had fun with the light".
Patch Theatre creative producer Sasha Zahra said the tour had been "amazing" and the artists "really enjoyed being in the region".
Ms Zahra said the show was a little different to the theatre's usual touring shows.
"It's designed to be compact and user friendly," she said.
"Two artists are travelling about delivering this really beautiful, intimate storytelling experience into schools."
Ms Zahra said the show was a way for kids to connect to art, science, and literacy, and build creative thinking and problem solving skills.
"What we love about the work we create at Patch for this young age group is its really design-led and immersive," she said.
"We're asking kids to place themselves at the centre of the experience and use their own creativity to make their versions of the stories.
"Arts for little ones build so much for creative thinking, problem solving and it helps with other areas of learning."
This tour is being supported by the Education Department, plus the FWH Foundation, Lang Foundation and an anonymous foundation, which has allowed for the shows to be offered to disadvantaged schools across the regions for free.
"This really makes sure that no matter where you live you have got access to quality arts experiences, particularly for little ones," Ms Zahra said.