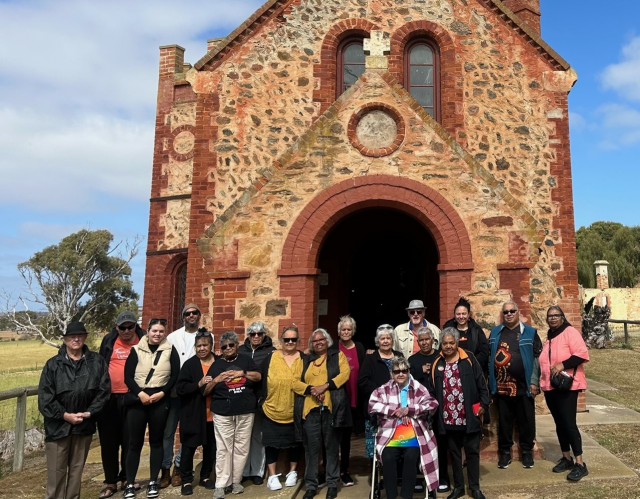 A group of elders from Kura Yerlo and Adelaide – including Port Lincoln's Rubina Burgoyne and Sandra Peel – last month visited the 'Old Poonindie Mission'.
Venerable Susan Johnson, Reverend Brian Bascombe, Simon Lathlean and Josie Hage – all of Port Lincoln Anglican Parish – welcomed the group to St Matthew's Anglican Church.
The group toured the former mission and many stories were told – and connections made.
A barbecue was enjoyed afterwards under the gum trees alongside the church.
Some of the group are descendants of former residents of the mission and were quite moved by the experience of being in the very place their ancestors had lived and worked, attended school or were born, during the 44 years of the mission's existence.
It was established in 1850 by Adelaide Archdeacon Matthew Hale as a 'training institution' for young Aboriginal families.
A site outside of Port Lincoln was chosen as it was relatively isolated at the time.
Initially, Poonindie was only taking young people who had some basic schooling and Christian education, with the first group of residents – originally from the Adelaide Plains and River Murray region – educated at an Adelaide school.
At Poonindie, they were expected to live a Christian lifestyle, form nuclear families and learn domestic and agricultural skills.
The Adelaide school closed in 1852 and so Poonindie lost a pool of future residents, after which it was persuaded to accept people from across South Australia and some from Western Australia.
Once established, the mission became almost self-sufficient thanks to a successful farming enterprise.
The church is still operational and has been for an uninterrupted 170 years, with church services on the third Sunday of each month at 11am.