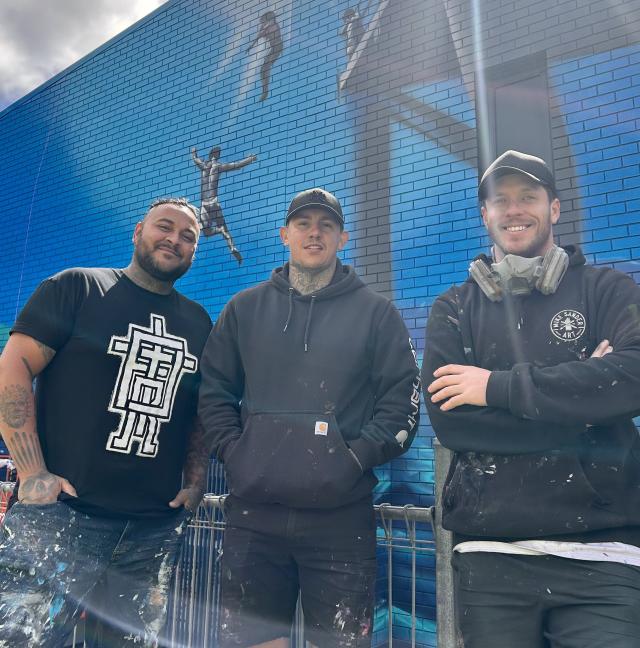 Port Lincoln High School's new mural came to life during the school holidays, with the help of three Adelaide artists.
The design was sketched out on Monday, October 1 using a projected outline and the work has since been complete.
Thomas Readett, a Ngarrindjeri man, and Shane Cook, a Koa man, are First Nations artists – Mr Readett created the design composition with the inspiration of Port Lincoln High School students and the added influence of Mr Cook.
Student ideas that were contributed for the mural included Boston Island, jetty jumping and notorious Port Lincoln fish.
Mr Readett invited Mike Sander to help complete the artwork in the allotted time frame.
Mr Cook added in line work reminiscent of the aerial view of the coastline and abstract dot work.
"The dot work is geometric pattern-work, it's a play on dot painting that's similar to some of my tattooing," he said.
Mr Readett said his artwork challenged the idea of what Aboriginal art was and was not.
"I view the whole thing as Aboriginal art, I work in realism but it's still Aboriginal art because it's an Aboriginal person doing it," he said.
"Shane and I have worked on a lot of projects together, Mike works in realism as well, so he can pick up as needed."
The artists used water-based spray and a hybrid-based aerosol to complete the mural, which takes up an eight by nine metre wall of one of the school's buildings.