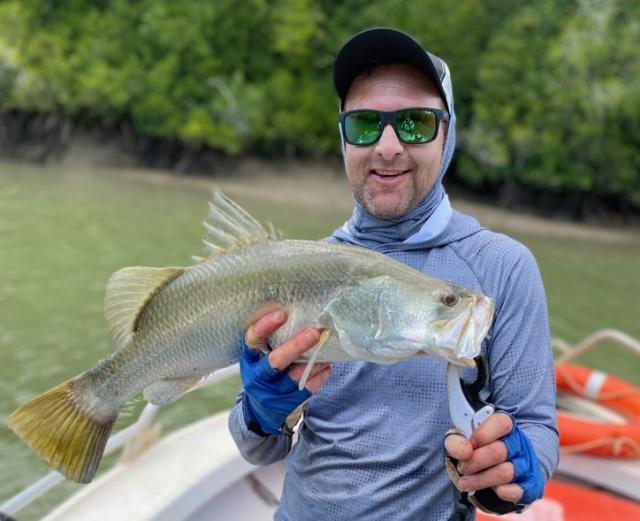 Spot On Fishing Port Lincoln
Here is what has been biting across the region this week.
West Coast
A few reports have come in from further up west this week – bronzies, gummy sharks, salmon and small mulloway have all been caught from the Dog Fence and Tuckamore.
Venus Bay has continued to fish well for whiting up to 40cm.
Big snook and garfish have also been caught in the bay.
Salmon reports have continued to come in from most surf beaches along the coast. Locks Well and Talia were the most consistent.
Coffin Bay
In Coffin Bay the whiting have been in good numbers around the bay – the Ledge, Seal Corner, Goat Island, Dutton Heads and The Brothers have all been fishing well.
The size has still been hit and miss as there were a lot of undersize ones among the legal ones, although most people have managed to get enough for a feed.
Salmon trout and garfish were around also. The Ledge, Dutton jetty and Seal Corner have had plenty of reports of salmon trout, tommies, garfish and the odd snook too.
Out from Farm Beach it has been similar to previous weeks. Whiting have continued to fish well from Farm Beach up to Frenchman's.
The white holes that spread further out from Farm Beach towards Seven Mile have also had good reports of whiting, tommies, trevally, and salmon trout.
The usual offshore reef species – nannygai, morwong, grouper, and sharks – were landed on the lumps and reefs off Sir Isaacs and Point Drummond.
Port Lincoln
The whiting fishing down the Passage would be best described as patchy.
A few Bight redfish and blue morwong further south of the Passage were landed.
Some better whiting catches were reported in the bays, which included Spalding Cove down to Horse Rock, Bicker Isles, and the North Shore.
Early mornings, top of the high tide and dusk were the best times.
Squid and garfish have been in the same areas. Snook were taking soft plastics off the rocks at Axel Stenross ramp, the town jetty and the main wharf, along with the odd squid and salmon trout.
The Sleaford to Wanna coast was continuing to produce salmon between two and four kilograms on a variety of lures and baits.
Tumby Bay
Out at the Group the whiting have slowed down this week as boats continued to get their bag limit, but they had to move around a lot.
Tommies were in good numbers over the sandy bottom along with red mullet and the odd flathead.
Squid have continued to be hard to find as there has been a lot of moving around involved to find a few.
Around Tumby Bay, the sand hills and ballast ground are fishing well for whiting.
The size has been small as there were a few undersize ones being thrown back, but also plenty of legal ones around.
Ski Beach has been good for garfish, tommies, a few whiting and the odd squid.
Head out late afternoon as that is when the bite has been the best.
Second Creek has been firing for salmon and good size ones too. Metal lures and bait have both been working and even soft plastics.
Cowell
Crabs have slowly been starting to turn up, with a few kicking around and getting caught on the whiting lines.
Yellowfin whiting were in good numbers, but the average size seems to be quite small.
Plenty of fish have been caught on top water lures as well as baits.
There were not many whiting reports from in or outside the harbour, but there should a few around.